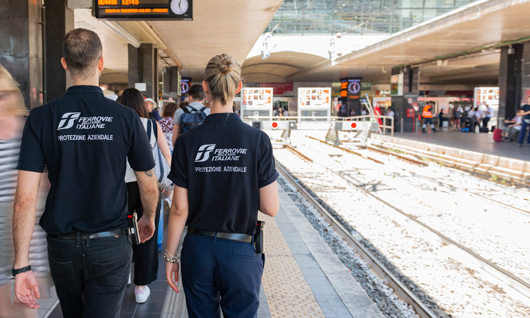 Rfi's Company Protection Department currently employs more than 400 people in charge of security, with operational, managerial, technical and legal duties. The staff are located in 13 Local Officers and, coordinated by the Head Office, carry out constant management and monitoring of strategic assets, in collaboration with the Public Security Authorities, as well as the management of passenger flows at Large Stations. Any real or potential risk situations detected in the area are promptly communicated to the Security Situation Room, which manages the flow of information, verifies and coordinates the various sources, and if necessary, involves Management and/or External Bodies.
The staff are carefully selected based on the following criteria:
reliability and confidentiality;
attention to rules;
ability to adapt and provide a flexible response also to frequent changes in operational scenario;
aptitude for teamwork and ability to share objectives;
aptitude for interpersonal relations.
In addition to the basic elements of railway traffic, maintenance and ticketing systems, the staff are also trained in the following subjects in order to start working in security:
scenarios, foundations and legal framework of reference for industrial security;
security management and operating tools;
interpersonal behaviour and communication;
first aid, use of defibrillators (BLSD) and airway obstruction manoeuvres, including for paediatric patients.
personal defence.
We are particularly present in the larger stations, where there are more commercial spaces and areas open to the public, especially during periods when there is a greater influx of travellers: the summer exodus, major events and sporting events, etc.