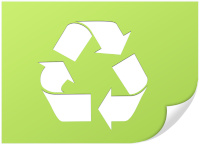 The maintenance of the railway infrastructure and the construction of new works require the use of considerable quantities of construction materials and the production of demolition material, which in our case consists mainly of excavated soil and rocks and removed railway ballast. In order to ensure the proper management of the natural resources used, we have developed a comprehensive materials management system that, from the design to the execution phase, also provides for reuse wherever possible and in compliance with safety standards.
The most commonly used materials include excavated earth and rocks for network development activities and, for maintenance activities, mainly ballast for railway ballast and steel for track and rail technology systems.
In order to enable the proper management of materials, we have developed a system of material reuse to reduce, upstream, the supply of materials and, downstream, the production of waste. Only if the material used does not have the necessary characteristics to be managed as an asset or by-product is it managed as waste.
In order to contain and reduce the environmental impact of our activities, we have initiated a number of projects with a view to the circular economy.