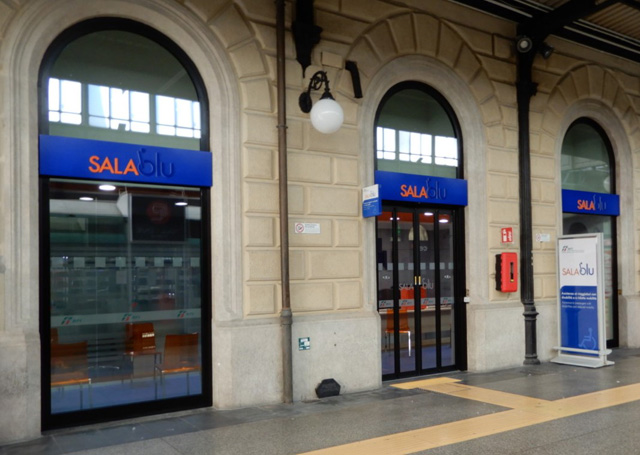 Local Sala Blu offices of RFI are found in 15 main stations, in addition to a National Sala Blu office, but it operates only by telephone and the web. Sala Blu offices are open every day, including weekends and public holidays, from 6:45 am to 9:30 pm and provide information and bookings for assistance services, which can be provided round the clock at all stations in the network.


The assistance services, free of charge, consist of:
- meeting passengers at the station at the agreed meeting point or, for incoming passengers, at their seat on board the train,
- meeting passengers to the station to collect their tickets, if applicable,
- accompanying passengers on board the departing train to their assigned seats or from the arriving train to the station exit or, for those continuing their journey, on board another train,
- providing, on request, a wheelchair for accompanying passengers to/from the train at the station,
- boarding and alighting the train by means of a forklift for passengers on wheelchairs,
- a hand luggage service (1 piece of luggage) if required.

The assistance services are aimed at:
- people with limb problems, even temporary ones, or people with walking difficulties,
- wheelchair users (see details),
- people who are blind or visually impaired,
- people who are deaf or hard of hearing,
- the elderly,
- pregnant women,
- people with cognitive disabilities.
If the passenger requiring assistance is not self-sufficient, the service may only be able to be provided if there is a personal assistant at the station or a person accompanying them during the trip.